Seven Healthcare Recruiting Problems Solved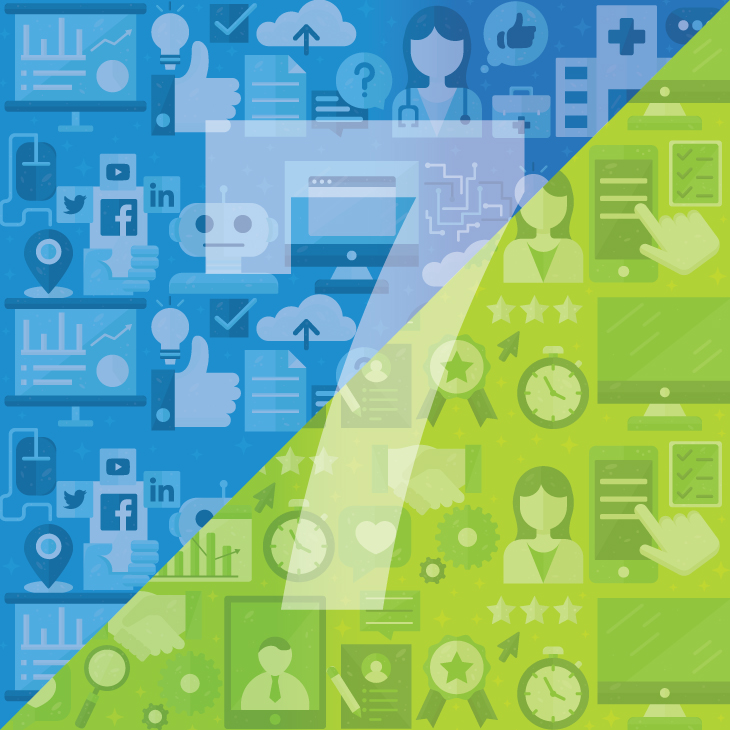 Out of all the occupations in the nation, it's healthcare that's most in demand.
Between 2016 and 2026, healthcare jobs are projected to grow by 18 percent, outpacing the national employment average for all other occupations. This forecast from the U.S. Bureau and Labor Statics also means the U.S. will add 2.4 million new healthcare jobs – and that's not even taking into account the existing ones that are still vacant. In fact, the Association of American Medical Colleges projects a physician shortage of up to 121,300 by 2030.

With a skyrocketing demand for healthcare services, recruiting and staffing professionals are in the spotlight, working diligently to meet our nation's requirements for high-quality providers. While finding the right professional for the right job is a process, there are things recruiters can do to streamline their efforts.
The Delta Companies has leveraged three decades as a national healthcare staffing firm to find answers to seven of the toughest issues facing recruiters today. In a tight labor market, jobs aren't the only thing that make a difference.
The recruiting experience also goes a long way.
Problem:So many great providers are already employed. It's difficult to get them to consider another option.
Solution: Get to know your candidates so you can match them to new opportunities.
Leverage the intel in your CRM system to discover facts or trends. Look past the jobs they already have to highlight what they could potentially want next. Consider what motivates a potential candidate, whether that's location, specialty, facility, lifestyle amenities, etc.
Keep in continual contact with candidates, even passive ones, because existing situations can change quickly.

Problem: Metrics are a mess, making it hard to see trends or patterns. This lack of visibility negatively impacts decision making.
Solution: Get the technology necessary for organization and automation.
There are certain metrics you must have access to in order to do your job effectively and if your spreadsheets look like a novel, you're not going to get very far.
Variables like location trends, cost per hire, sourcing channel, attrition/retention rates are at the top of the must-have list. Invest in the technology necessary to provide visibility into this data.
The more granular the information, the more ways you can leverage what works – and do away with what doesn't.

Problem: With demand for providers outpacing supply, every day is focused on filling positions. There's no replacement for proactive sourcing.
Solution: Let social media help you out.
Most people engage with at least one of the major social media platforms – Facebook, Twitter, LinkedIn, and YouTube. Go where your candidates are likely to be and market your firm and job opportunities there. Post videos, industry facts, and engaging commentary to keep your firm top of mind. People are drawn to great companies with great stories. Show candidates and prospects why your firm is the one they should align with.
Ask subject matter experts and the marketing professionals at your firm to help create social content. Hire outside expertise and freelancers when you need assistance and expertise.


Problem: The staffing firm doesn't have the name or reputation to outshine other major organizations.
Solution:Create a candidate experience they won't forget.
Who cares how big a hospital or healthcare organization is? Name and reputation only go so far. Candidates want to be seen and heard, so talk their language on your Website, social media, and in all communication.
Make your Careers page stand out with helpful, easy-to-read information. Use a mobile-first approach with job descriptions, applications, and forms so candidates can apply anytime and on the go.
Most importantly, keep the lines of communication going at all times, checking in with candidates and keeping them apprised of opportunities and progress. Also, prove to them that you care about their experience by asking for feedback.

Problem:Recruiting sources are outdated or ineffective.
Solution:Invest in a new and innovative recruiting platform.
Technology is key to effective recruiting, and that means making an investment. Provide recruiters with the right searching and tracking tools that are user-friendly, agile, and adaptable.
Make sure the platform you select is streamlined and can integrate with other tools to streamline and automate tasks.

Problem:The Hiring Manager isn't closing the deal.
Solution:Create a partnership so you can help facilitate the best candidate experience.
Recruiters are busy – and by extension, so are hiring managers. If there are things you can do to make their jobs easier, you'll create trust and loyalty.
Help them prepare for interviews and keep the flow of communication going throughout the interview process. Again, use a mobile-first approach so you can connect with hiring managers on their smart devices wherever they are.
Ask hiring managers for candidate feedback and keep track of all information so you can share it with your team. By having information and feedback organized and accessible, you can streamline future work with hiring managers.

Problem:The placement was a success. Why is the retention rate so low?
Solution: Prioritize positive onboarding.
Sometimes the job isn't what the candidate thought it'd be, or maybe atmosphere didn't feel quite right. There are also times when an unfriendly coworker or an unexpected experience can make a new hire run out the door on day one.
The reality is that each time a new hire quits, your work to fill the position starts over again.
As a recruiter, you can help boost retention rates by advocating for a comprehensive onboarding program. Work with the Human Resources department so you can help the candidate understand the organization and culture from the beginning of the recruiting process.
It's also a bonus if you can arrange for facility tour, make introductions, and request all paperwork be sent to the employee before his or her first day. These small steps can go a long way in making a great first impression.
---
Leadership in Healthcare Staffing
The Delta Companies understands the complex work of healthcare staffing. Since our company launched in 1990, we've worked with a long list of talented providers to find excellent positions in hospitals and healthcare facilities around the nation. From major metros to rural towns, we specialize in permanent, allied, and locum tenens placements.
TDC has the thought leadership, technology, and tenure to streamline staffing solutions for long-term results.
As the industry changes, we innovate by creating access for people through performance and humanity.
Read more about some of the innovation and changes expected to impact the industry at "Trend Worthy: 7 Healthcare Trends for 2019 You Need to Follow."